Pay Per View
The next best thing to being at the big fight, is watching it on pay per view. Check out this month's line up of exciting pay per view events on Optimum TV.
Pay per view events can be found in HD on Channel 550 and in SD on channels 551 and 552. In addition, select events are available in español on Channel 553. A digital cable box or CableCARD is required to receive pay per view events. Customers with CableCARDs must call Customer Support to order pay per view. Prices and programming subject to change.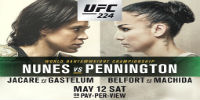 UFC 224:
NUNES VS. PENNINGTON
Saturday, May 12th
at 9:00 p.m. ET / $64.95





Available on: Ch. 550 in HD | Ch. 551 in SD | Ch. 553 in SD (en español)
Following consecutive wins over Miesha Tate, Ronda Rousey and Valentina Shevchenko that have cemented her superstar status in the sport, UFC bantamweight champion Amanda Nunes will defend her title for the first time in her home country of Brazil as she faces hard-charging contender Raquel Pennington.