Pay Per View
The next best thing to being at the big fight, is watching it on pay per view. Check out this month's line up of exciting pay per view events on Optimum TV.
Pay per view events can be found in HD on Channel 550 and in SD on channels 551 and 552. In addition, select events are available in español on Channel 553. A digital cable box or CableCARD is required to receive pay per view events. Customers with CableCARDs must call Customer Support to order pay per view. Prices and programming subject to change.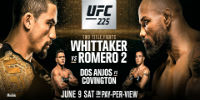 UFC 225:
WHITTAKER VS. ROMERO 2
Saturday, June 9th
at 9:00 p.m. ET / $64.95





Available on: Ch. 550 in HD | Ch. 551 in SD | Ch. 553 in SD (en español)
The undisputed middleweight championship will be on the line at UFC's return to Chicago on June 9. Robert Whittaker defends his belt against Yoel Romero in an anticipated rematch that headlines UFC 225. Revisiting their 2017 Fight of the Night battle that earned Australia's Whittaker the 185-pound title, Cuba's Romero has earned a second shot at UFC gold with a devastating knockout of Luke Rockhold in February.