Pay Per View
The next best thing to being at the big fight, is watching it on pay per view. Check out this month's line up of exciting pay per view events on Optimum TV.
Pay per view events can be found in HD on Channel 550 and in SD on channels 551 and 552. In addition, select events are available in español on Channel 553. A digital cable box or CableCARD is required to receive pay per view events. Customers with CableCARDs must call Customer Support to order pay per view. Prices and programming subject to change.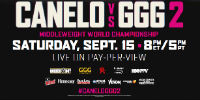 HBO BOXING:
CANELO VS GGG 2
Saturday, September 15th
at 7:30 P.M. ET / $84.99





Available on: Ch. 550 in HD and SAP | Ch. 551 in SD and SAP
The rematch the boxing world wanted will arrive on Mexican Independence Day Weekend as Lineal Middleweight World Champion Canelo Alvarez (49-1-2, 34 KOs) and WBC/WBA/IBO Middleweight World Champion Gennady "GGG" Golovkin (38-0-1, 34 KOs) will return to the T-Mobile Arena in Las Vegas for their historic 12-round rematch on Saturday, Sept. 15. The event will be produced and distributed live by HBO Pay-Per-View beginning at 8:00 p.m. ET/5:00 p.m. PT. For this event, you may begin ordering at 7 a.m. ET on September 15.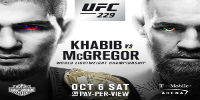 UFC 229:
KHABIB VS MCGREGOR
Saturday, October 6th
at 8:00 p.m. ET / $64.99





Available on: Ch. 550 in HD | Ch. 551 in SD | Ch. 553 in SD (en español)
One of the most anticipated fights in UFC history will take place in Las Vegas on Saturday, October 6. "The Notorious" Conor McGregor returns in an attempt to retake the UFC lightweight title from unbeaten champion Khabib Nurmagomedov in the main event of UFC 229. At 26-0, Russia's Nurmagomedov has been untouchable as a pro. But Ireland's McGregor, the first man to hold two UFC titles simultaneously, has made a career of achieving what some say is impossible. He plans on putting a "1" in Nurmagomedov's loss column while taking back the belt he never lost in the Octagon. For this event, you may begin ordering at 10 a.m. on October 6th.
©2018 HBO Pay-Per-View, a division of Home Box Office, Inc.®, Golden Boy Promotions, LLC. and GGG Promotions, LLC. All rights reserved. HBOPPV®, HBO® and related channels and service marks are the property of Home Box Office, Inc. ©2018 Zuffa, LLC. All rights reserved. Card subject to change. Customers without a digital cable box must call customer service to order Pay-Per-View service. Pay-Per-View® events are available at an additional cost.